*As an TRY-OUT, our FEZ travel review is written in english. In this way we can monitor if the article is reached by a broader audience; anyone travelling to Fez (Fes).

My Fez travel review: where to go to find authenticity, gastronomy and as few tourists as possible? I can name very few options within a short flying distance, but to find these elements at a place where the sun always shines is hard. So, after some research the Girls Who Travel Noah & Kiki decided to go to magical Morocco.
I was able to confirm the magical impact of the country, after having visited several places in 2014 (Agadir, Essaouira, Marrakech, Sidi-Ifni & Tiznit). For time-rich travellers, I would definitely recommend visiting as many Moroccans cities as time allows. From what I have seen, they all have their unique charms! 
MARRAKECH OR FEZ? 
Two beautiful cities, making it rather hard to come up with a decision. So, I woud like to start my Fez travel review with a Moroccan debate: Marrakech versus Fez.
Picking on my 2014-rymory I could recall that I loved Marrakech' roof top bars, mint-flavoured shisha, monkeys, belly dancers, acrobatics, very high-end Riads hiding behind non-assuming plain walls and all the other hip elements the city offers. But, they compete for tourist-crowds, which made the city somewhat commercial 'superficiality' over the years. It has become a sort of movie set of tourist-orientated and camera-ready experiences.
Fez on the other hand (from what I read during my pre-research) has a cobblestoned medieval that transports you back in time the moment you enter the medina's walls. Hardly surprising they suggest, considering it was found in the 9th century and has kept its reputation as the cultural and spiritual giant of Morocco. So, authenticity, few tourists and sun were covered. Gastronomy? We were going to find out soon, this is my Fez travel review!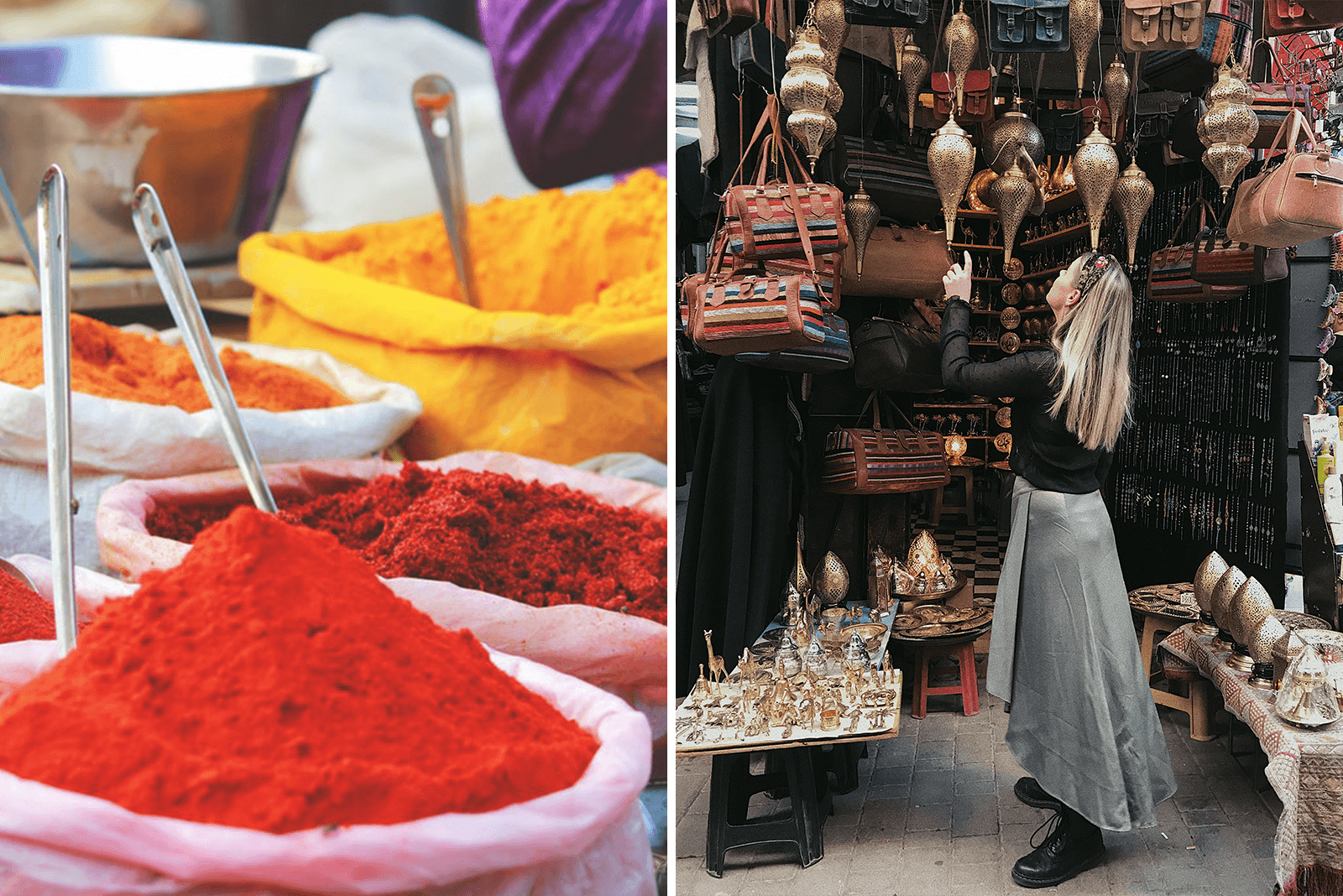 FIRST OF ALL, WHAT ABOUT FEZ?
Now that I have been there, I can speak from my own experience. I would like to start my Fez travel review with saying that Fez is a city where you won't get bored easily. Just north of the Middle Atlas Mountains, this former Moroccan capital is home to the ''mother'' of all Medinas. The Medina feels like a maze where even locals get lost. I asked our Riad-hostess if she ever lost her way and she giggled "yes, everyday – that's the magnificence of it". Still, on the question how long a walk would take to the blue gate she answered. For me, probably 15 minutes. For you, at least 45 minutes! That was no surprise; everywhere we turned we saw stone pathways, mysteriously opening out into stall-lined streets before being squeezed into steep dead-end alleys that were so narrow the sun doesn't find its access. It was a-maze-ing. Haha;)
A DIFFERENT WORLD 
With its best-preserved Medina in the Arab world, you are seemingly transported 1000 years back in time, making it like a walk through a historic movie. Especially when you enter (after 45 minutes of searching) the blue gate, Bab Boujeloud, you feel like you arrive in a completely different world. Since it's world's largest urban area without cars, the only transportation you'll see is provided by carriages, motorcycles and… donkeys. We were especially flabbergasted by the authenticity of the oldest part of Fez (yes!), Fez el-Bali. We would definitely recommend staying in the old city, rather than in the new town. The lively cafés filled with locals and the outdoor markets where the strangest things happen. But also, the narrow streets where children work and play hard and the donkeys that carry heavy supplies up and down the busy medieval city; those are things you won't forget easily.
As culinary travel expert to-be (in my gastronomic dreams), my focus was especially set on all the foods that Fez has to offer. So, welcome to the Fez-food diary! Hereafter, I will elaborate on drink habits en dress-behaviour in Fez, resulting in a complete Fez travel review.
FOOD IN FEZ DAY 1: CULINARY TOUR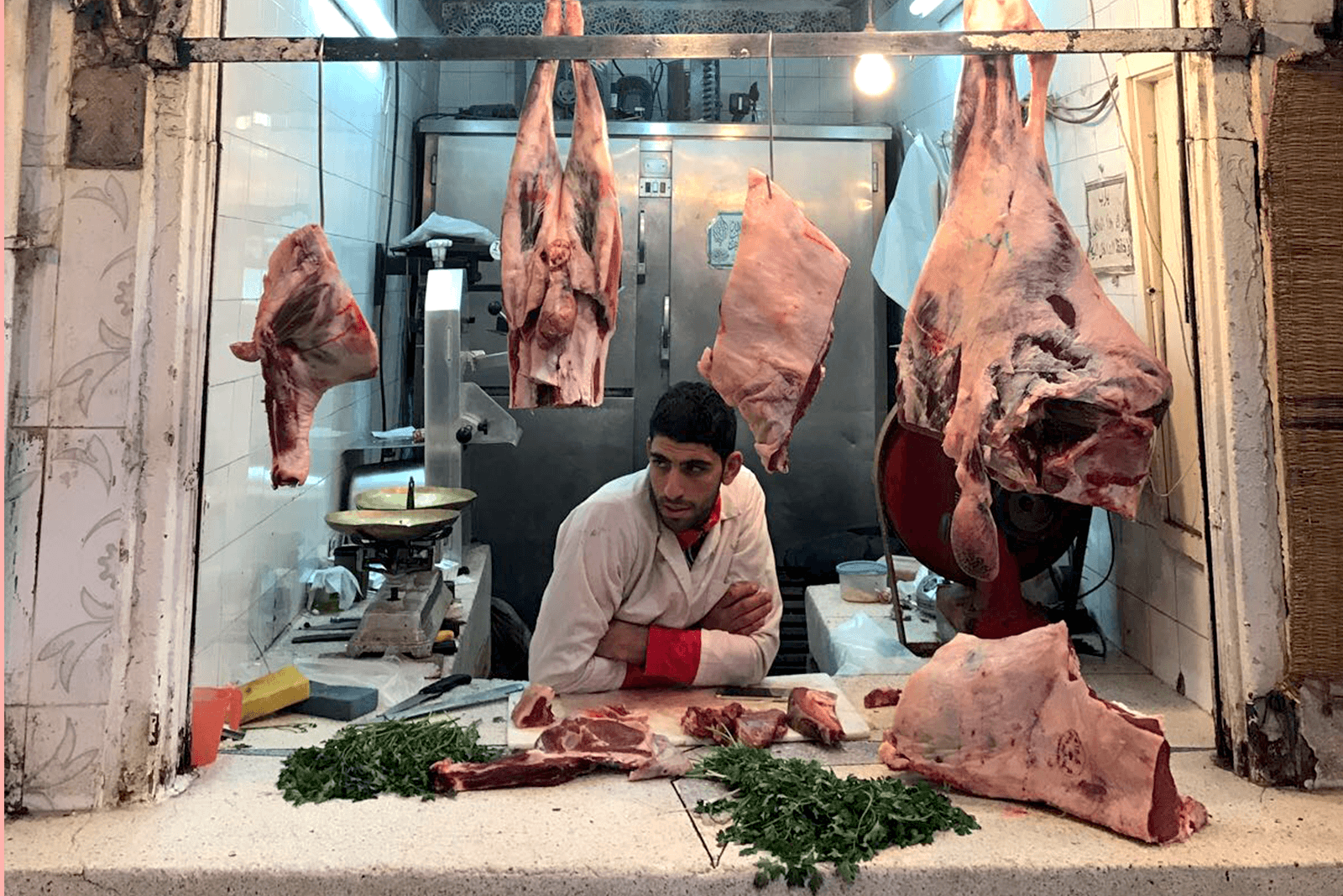 The first advice of my Fez travel review is to plan a culinary tour! Since both Noah and I are fixated on exploring the culinary ins and outs of any city we visit, we decided it to take a tour through the Medina on day 1. Plan-it Morocco offered exactly what we were looking for in a culinary tour. In the early evening, our destination specialist Asmae guided us through the Souk and gave us the chance to experience the lifestyle of locals. We were able to try street food specialties that you would never buy as tourist (without a guide).
The first stop for example, was at the only man in the Medina selling sheep heads. Yes. Sheep heads. This delicacy is apparently eaten for breakfast after a fresh home slaughter. In the Souk, sheep heads are steamed for five around and then ready to be sold by lunchtime. Half of the head costs around €1,50 and a whole head costs €3. ''With or without their eyes, and their brains are sold separately at another stall'', says Asmae. We were lucky to try the tender cheek, sprinkled with cumin, salt and chili. To be honest, it was amazing!
Our second stop was at a bakery shop, where they produce and sell ''Malawi Mamar'' bread, of which we tried 6 varieties. Some were topped with cheese and honey, some were tasty enough on its own. Asmae told me that bread is very scarified in Morocco, meaning that they will never ever throw the leftovers away. They will either store for the farmers to pick it up, or hang it on the streets for the birds to enjoy it.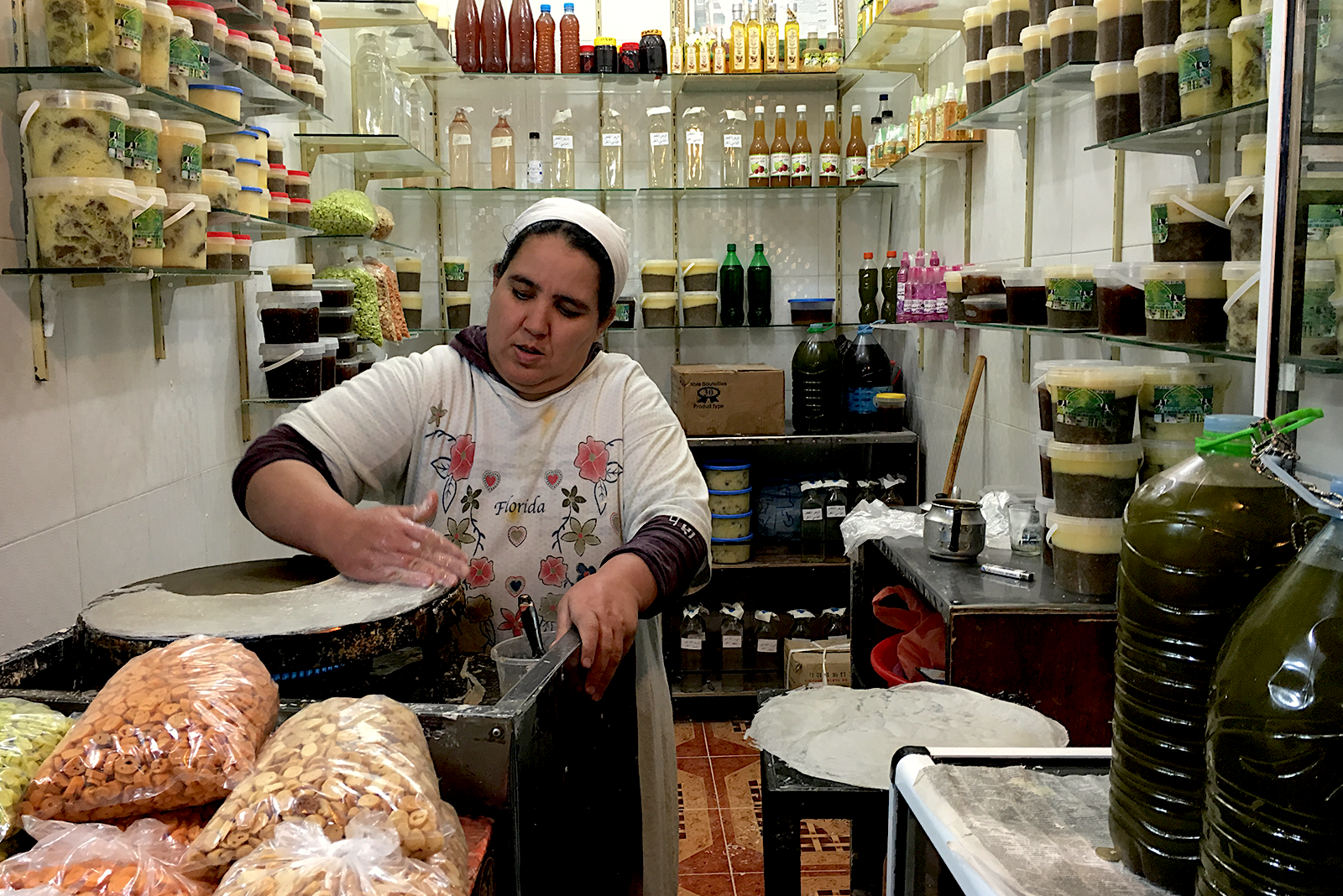 POOR CHICKENS, 13 HONEYS AND A 400-YEAR OLD BAKERY
Asmae also took us to the chicken-slaughter. For us one of the most heart-breaking thing to see, for the locals as normal as simply getting olives. Locals would pick one of the poor chickens to continuously be slaughtered and cleaned in front of their eyes. In this way, they confirm the freshness of the chicken. The excruciatingly sound the chickens made just before they were killed, is one I will never forget (unfortunately).
Another fascinating stop we made was at a honey souk, where we tasted an array of 13! different types of honeys, discussed their savours and healing properties, where they are used as condiment, cooking ingredients and as natural medicine. Sunflower honey for example, helps to strengthen the bones of children and lavender honey is used for cosmetic purposes. One of the honeys had quite a funny mythe around it – The Acaciea honey. Married men would give this to their wife, as it was believed to trigger the hunger. Back in the days, fat wives represented wealth. The more acacia honey they ate, the hungrier the got and thus the fatter they would become. Quite unimaginable, right?
In addition to the interesting bites we tried at the market, we investigated traditional cooking methods, visited a 400-year old bakery and a place where they manually heat the water for the communal Hammam. It was so fascinating! Winding our way through the alleys and souks with a food expert was the perfect start of our trip.
FOOD IN FEZ DAY 2:
10 EXTRAORDINARY COURSES AT RESTAURANT NUR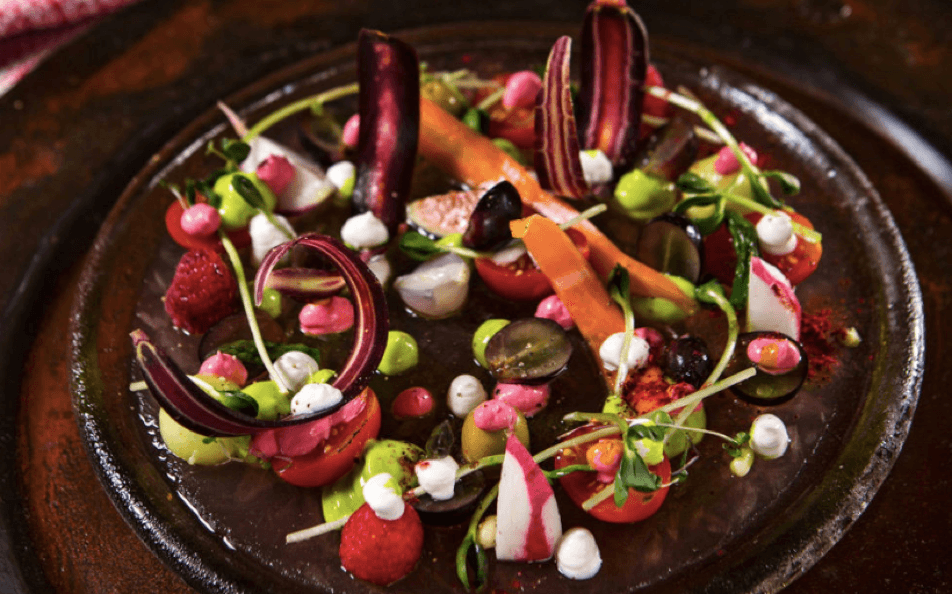 To 'please' our gastronomic heart, we were looking for an extraordinary dining place within Fez. A local friend of my father recommended us to visit restaurant Nur. Sharing the sparkle of her modern Moroccan cooking is chef Najat Kaanache's mission. The inspiring chef grew up in San Sebastian and discovered her interest and talent for cooking while working at a seafood restaurant in Rotterdam, after which she worked at a series of modern haute-cuisine restaurants, including El Bulli and Noma. The chef honours the cultural and agricultural diversity of Morocco within her daily changing menu. She affectionately refers to Morocco as "the mouth of Europe", forged through its unique confluence of colonial cultures. Every morning the team searches for the best available products within the Medina to create their improvisational, seasonal menu.
After a 10-minute walk from our Riad Dar Chrifa to the restaurant, we entered a chic and contemporary dining room. We were warmly welcomed in a rather cold restaurant. It appeared to be the coldest December in years. The chef and her husband greatly contributed to the wonderful evening. By sharing some of the courses with you, you'll understand what I mean.
EXCITING FLAVOURS
We started with an ''electrolyte cocktail'' with flavours of pomegranate, lemon, saline infusion, freeze-dried strawberry. This ''shot'' seems to dehydrate after a day of shopping or Hammam. The next interesting flavour bomb was the combination of warm sweet potato gnocchi, roasted artichoke hearts, Caspian caviar & nage of potato. Getting hungry? All right, just one more. One of the two desserts included pistachio meringue with dark chocolate ganache, raspberries and smoked corn nuts. They referred to it as ''sweet nothings''. Well, it definitely was something if you ask us!
A very nice bonus of restaurant Nur is that it's one of the very few places within the Medina to serve wine. As two Girls Who Drink this was a pleasant addition to the evening.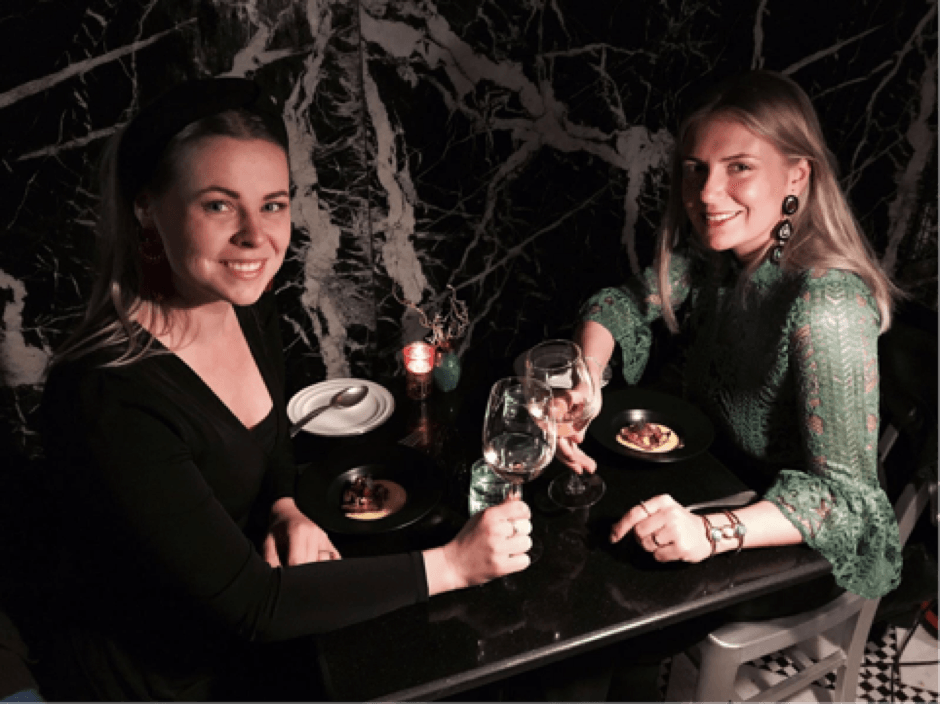 FOOD IN FEZ DAY 3:
COOKING CLASS AT CAFÉ CLOCK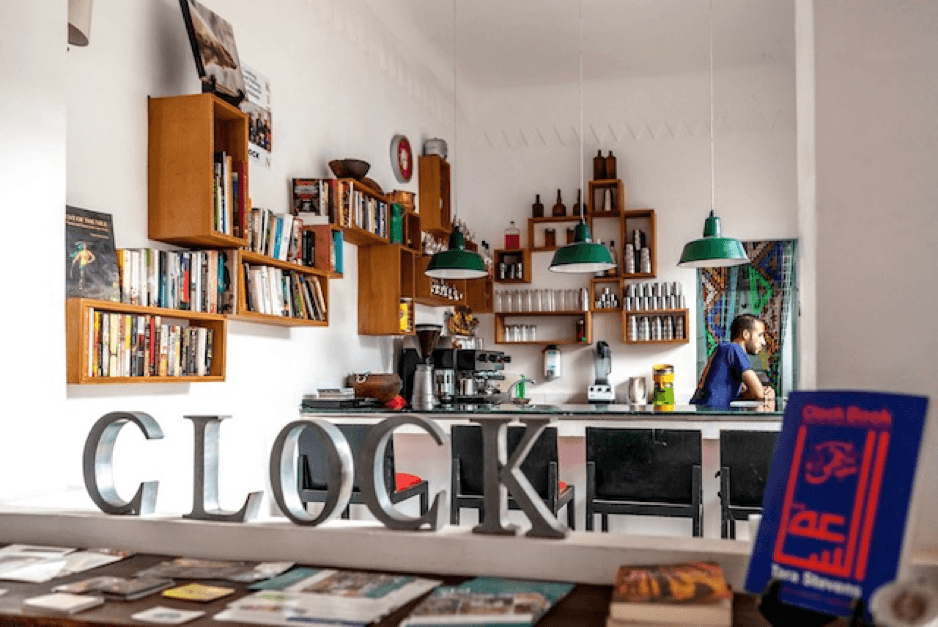 Definitely part of my Fez travel review is to visit Café Clock. A a 250-years old hangout, including a three-floor restored townhouse with many funky, including hidden gems picked up from the souks, making this place very unique within Fez. Musicians, story-tellers, Moroccan hip hop, free Wi-Fi access gives this cultural café all the hypes it deserves. It's not just the cooking class, the camel burger and the freshest carrot cake that made us (re)returning to Café Clock, it's perching on refurbished trendy chairs picked up from junk souqs, swapping numbers with your neighbouring coffee drinker and the mega-friendly staff.
It's for these reasons that we were so interested in taking a cooking class at Café Clock. Entering at 10:15, (a bit late; we were lost again), it was time to start with a chit-chat to get to know our fellow amateur-cookers from among others Belgium, Canada, Australia and Portugal. We needed to come a with a mutual agreement about what to cook that day, so we could start the grocery-shopping in the Souk.
The menu of the day:
Harira – traditional hearty Moroccan soup
Tagine b t'mer w l'berkok –  tagine with quince, okbra, wild artichoke & peas, served with lalm.
Knafa – souk fruit parfait
Blighat b t'mer – Date and pastry rolls
Our ''head-chef'' was very personable and had lots of interesting stories to tell. It was a real adventure wandering through the market with her as almost everyone we passed greeted her – it was like being in the presence of a local celebrity!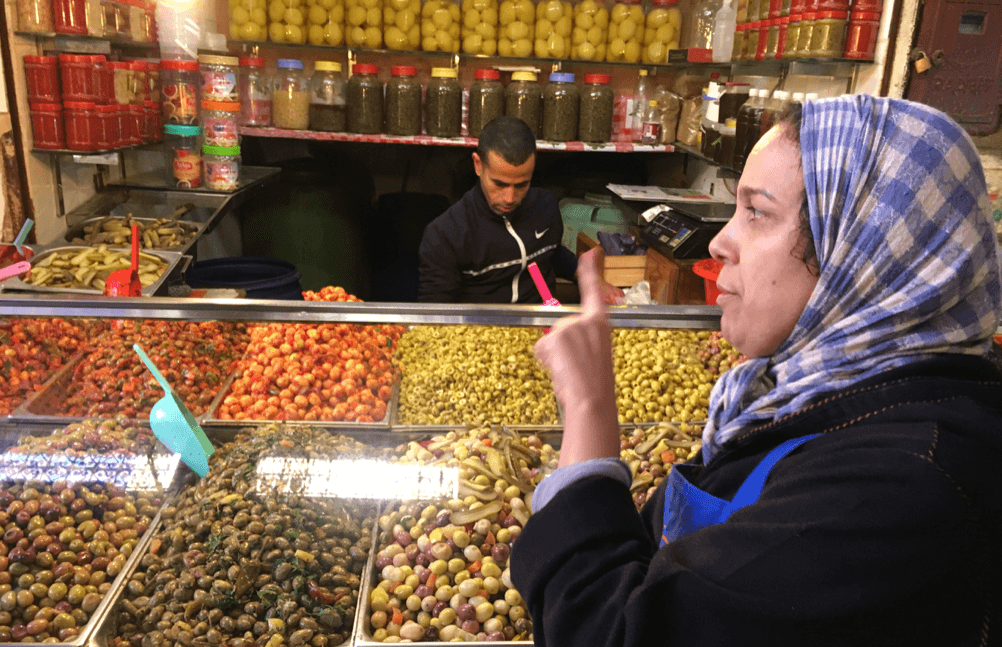 EATING & LAUGHING
Once we returned to the cafe we started cooking for about for three hours. During the cutting, cooking and cleaning there were loads of laughs and jokes shared along with some tasty pre-testing (mainly by Noah and I). Our chef shared facts about the Moroccan kitchen and cooking style but didn't really go in-depth. Experienced cookers might get a little bit bored during the class; you'll learn the basics you'll probably already know.
Once the four dishes were ready, we sat down on the terrace where the sun heated our faces and enjoyed our proudly-made courses with each other. We gained a good understanding of the seasoning that brings out the diversity of Moroccan flavours!
If you're not interested in a cooking class, I would still highly recommend a visit to Café Clock while you're in Fez to experience one of the many activities they host!
I hope you enjoyed my food in Fez travel review! Now, let's continue with drinks in Fez..
WHAT ABOUT DRINK HABITS IN FEZ?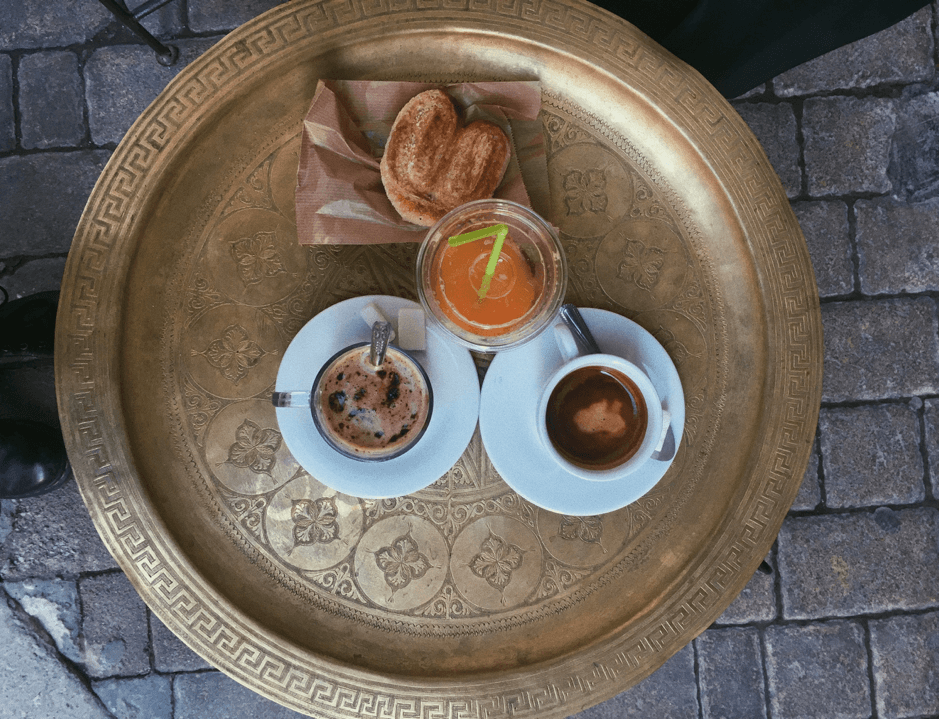 We travel, we eat and of course we drink. But how and what do we drink in Fez?
While we normally grab bottles of wine or drink many fancy cocktails during holidays, it's not at all like that Fez. Since Islam, the main religion in Fez, prohibitions the consumption of alcohol, bars that serve alcohol are rather difficult or even impossible to find. So, if you intend to get wasted every day during your city trip – this Fez travel review tells you that this is not the best place. There is a possibility though and I am more than happy to share it with you!
Noah and I were advised to take a cab to 'The New Town', where we could visit our lovely friend Carrefour. A bit hidden and outside the main supermarket, we found a wine- & liquor shop. Happy us! We bought two bottles of Sahari Gris (very light Rosé) and enjoyed it big time on the rooftop terrace of our Riad. We became a bit tipsy after all and unnoticeably giggled it away in our room. Important tip: buy your own opener & glasses: your Riad won't have it and you don't want to end up opening your bottle with a shoe and having to drink it from the bottle…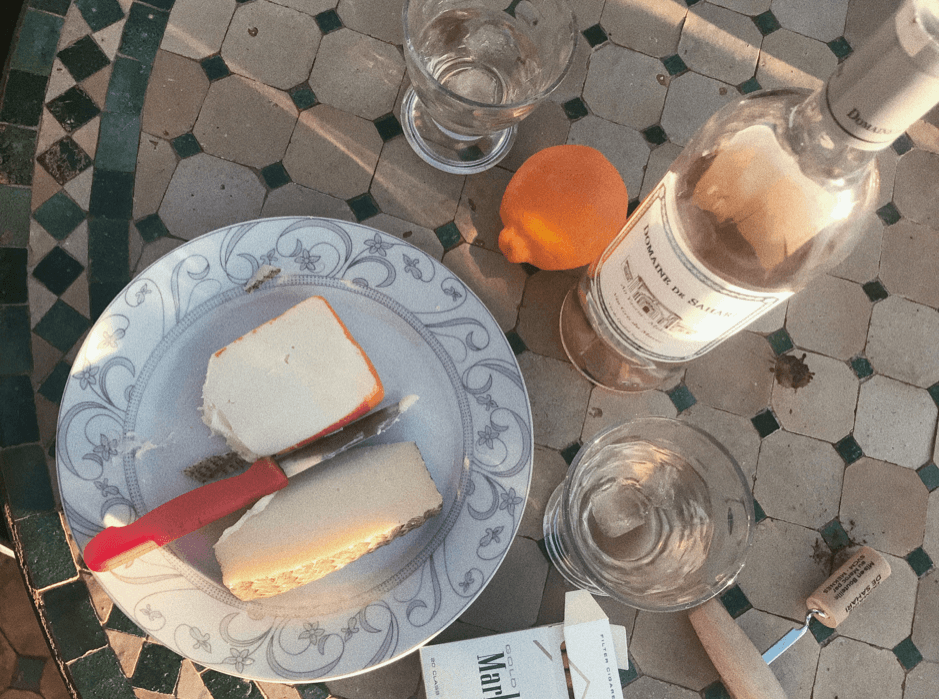 So, what did we drink outside the big walls of our Riad?
The national drink is mint tea (atay deeyal naanaa in Arabic). No, not like the hip and happening mint tea we all drink at our favo hotspot nowadays. They serve mint tea completely on their ow Moroccan way, with the amount of sugar your teeth would definitely say no to. It doesn't matter; drinking tea is a much-loved tradition that shows friendship, hospitality and is carried out with good care. While food preparation is generally a female domain, the tea is often prepared by the male head of the family. Have you ever seen a Moroccan pouring tea from ridiculously high with a long-curved sprout and wondered why? Well, I know now. Pouring tea from a height (at least 12 inches), intends to cause foam to form on the surface of the tea. It is a way to check if the tea is ready to serve and a to release the aroma's flowing out of the teapot.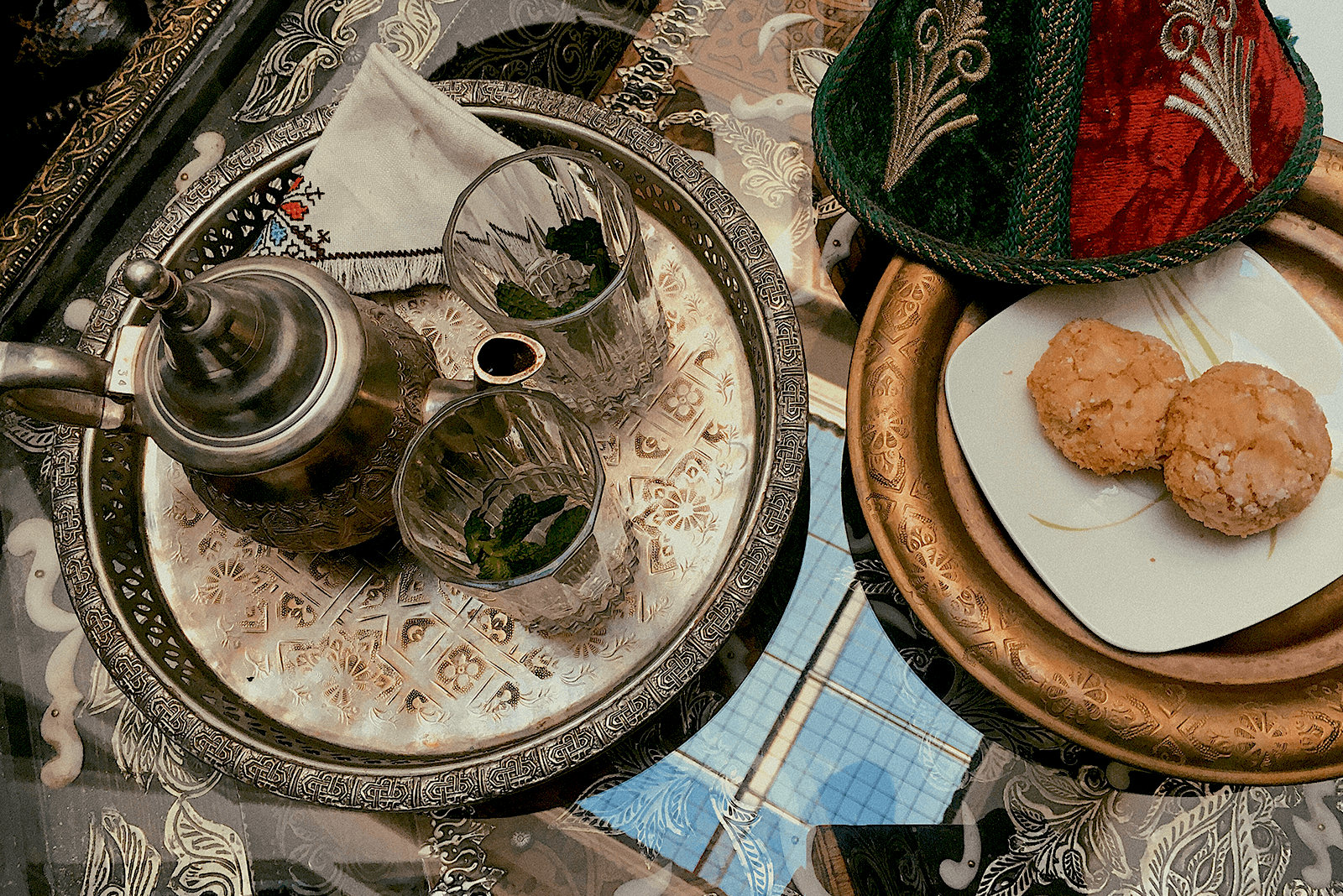 WHAT ABOUT COFFEE?
After lots of strolls through Fez we noticed that coffee drinkers take time to drink their espresso. While the French & Italian prefer quick caffeine breaks, standing at the bar or on their way to work, the Moroccan's can easily take a whole hour for their espresso shot. They often use the bar or café as their 'office', where they chit chat with fellow entrepreneurs about daily business, deliver messages, parcels or even money. Another funny finding regarding we made regarding coffee in Fez is its simplicity and authenticity. So definitely no latte art & decaf soy cappuccino. The best cappuccino we had was in coffee bar Barceloneta (sounds hip, right?) and it was made with milk-powder…
ANYTHING ELSE?
Also common in Fez is the broad range of freshly squeezed fruit juices (sharbat). Morocco is home to gardens of apple, avocado, bananas, kiwi, plums, grape and orange tree. In Morocco, oranges account for more than 8% of the fruit grown, so the local community enjoys the fruit of their country very often. The juices are sold in the souks and are super fresh; they are made right in front of you!
I hope you gathered interesting information from my drinks in Fez travel review. Now, let's continue to fashion in Fez!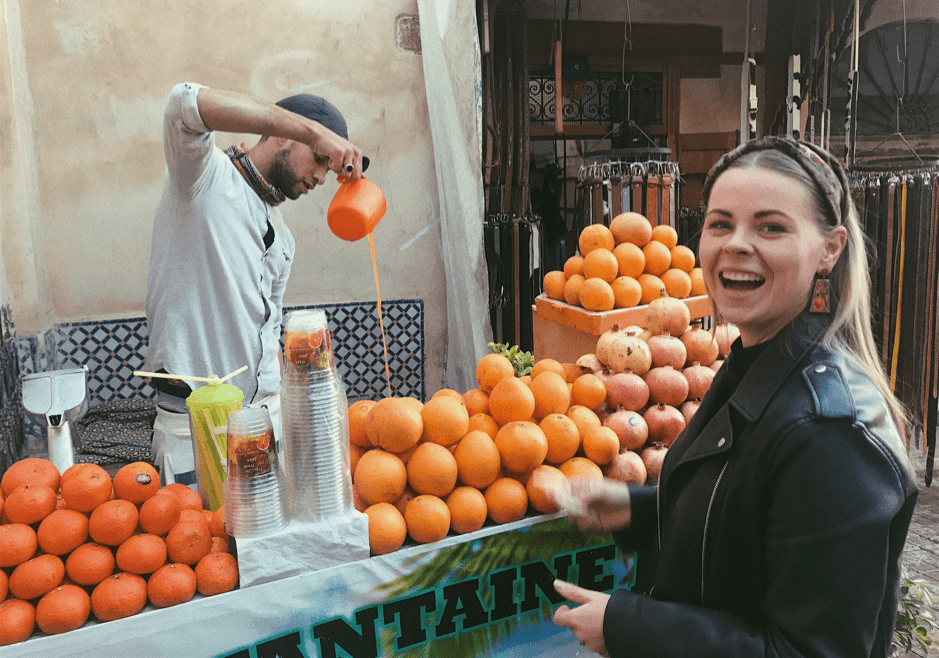 FASHION IN FEZ – HOW TO DRESS IN FEZ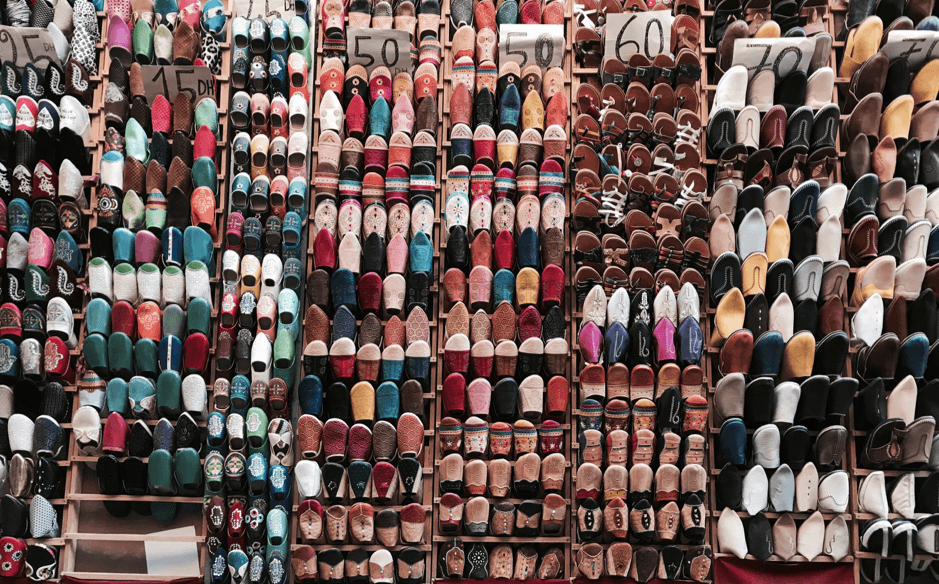 As part of my Fez travel review I would like to advice you all on how to dress in Fez. It can be difficult to know what is and isn't appropriate to wear when you visit an Arabic country. How to pack & dress when you go to Fez; that's a question Noah and I were thinking about for a long time before we went. So, for all the girls planning to visit Fez (or another Moroccan city), my advices.
As you know, Fez is a Muslim city and therefore modesty is highly appreciated. Leave your shorts, tiny skirts and strappy tank tops home or only wear them to the swimming pool in your Riad.
Don't think that you have to dress the same as local women in Fez. Morocco has no specific laws or dress codes for what tourists must wear but the society is quite conservative and it's better to dress more modesty. In other words, cover your body up. Wear longer dresses, skirts and try to cover your chest and shoulders.
INTIMIDATION
We noticed that even though we adjusted our clothing pretty well to respect the culture, we did experience some verbal sexual harassment. I think it's unavoidable; Moroccan guys can be quite intimidating and tiring in their comments to Western Women. A reason for this could be that we are perceived as exiting and 'available', considering we don't generally follow the Moroccan custom to refrain from sex before marriage. One thing is for sure; the more you expose yourself, the more likely you will face such comments. Walking in very little clothing can intensify two perceptions:
You don't respect local standards, and are pleased to reveal 'private parts' of your body.
That the willingness to reveal your body reflects our 'availability' and the open morals related to European women.
So, my advice is: dress modesty by covering as much as possible to avoid harassment or coming across disrespectful. Gladly, there are plenty of colourful, fashionable & body-covering outfits available. For example, look at how Kea Sutherland dressed up when she was in Morocco or check out this Asos-page for many suitable dresses! Lastly, this Moroccan Lifestyle & Fashion blogger Yasmina has a colourful Instagram account to follow!
Dear travellers, wanderers, voyagers and explorers. I hope that after reading this fez travel review you are convinced to visit Fez! Do you have any additional tips for my Fez Travel Review, or are you eager to share your experiences? Please leave a comment or send a mail to kiki@girlswhomagazine.nl
[wdi_feed id="1″]