Als vrouwen horen we elkaar te inspireren en te motiveren. Dat kan gelukkig op allerlei manieren en zien we ook steeds meer gebeuren. We delen steeds meer wijsheid en leren op deze manier van elkaar. Wij hebben levenslessen van 6 sterke vrouwen onder elkaar gezet. Hopelijk helpen ze jou ook!
6 x Levenslessen van sterke vrouwen >
Liefde heeft een prijs – Queen Elizabeth II
En die prijs is heel simpel, volgens Her Majesty Queen Elizabeth II: 'Grief is the price we pay for love'. En ze heeft gelijk. Sowieso heeft de 94-jarige monarch veel wijze woorden voor ons.
Naast haar fashion inspiratie, heeft ze met haar 68 jaar regeren, het Prince Andrew Epstein-schandaal, het afstand doen van haar kleinzoon Prince Harry genoeg ervaring en wijsheid om een voorbeeld te zijn voor iedereen: 'Let us not take ourselves too seriously. None of us has a monopoly on wisdom.'
Queen Elizabeth II // quotes van sterke vrouwen // levenslessen van sterke vrouwen
Forgiveness goes a long way – Beyoncé Knowles
Beyoncé leert ons van alles: van haters gonna hate tot it's okay not to be okay. Toch is één van de grootste levenslessen die Queen B ons leert dat vergiffenis je verder kan brengen dan koppigheid.
Iedereen kent het liftincident, maar in plaats van het uitvergroten of een reality show beginnen over het voorval, neemt ze haar verhalen en creëert kunst als Lemonade, 4:44 en Everything is Love. De Carters werken hard en that's that.
Leeftijd is geen beperking – Serena Williams
Misschien wel de beste tennisster of all time: Serena Williams. Williams heeft veel verschillende titels op haar naam staan en blijft deze toevoegen, ondanks dat er jongere spelers bij komen.
Haar dominante energie in het veld zorgen voor een mindset die haar brengt waar ze nu is. Zeker voor atleten is leeftijd een issue, maar niet voor Williams: 'I think in life you should work on yourself until the day you die.'
Je bent niet je baan – Toni Morrison
In 1993 was zij de eerste zwarte vrouw ooit die de Nobelprijs voor Literatuur ontving voor haar oeuvre: Toni Morrison. Eén van haar mooiste werken is misschien wel Beloved: ze vertelt het verhaal van een vrouwelijke slaaf die haar dochter vermoordt zodat zij dezelfde horror niet mee hoeft te maken.
De schrijfster was een inspiratie voor de vele Civil Rights activisten. Over haar werk zei ze het volgende: 'Whatever the work is, do it well – not for the boss, but for yourself. You are not the work you do; you are the person you are.'
Don't bully yourself – Vivian Hoorn
Vivian Hoorn is naast invloedrijke (en grappige!) influencer een hele goede Nederlandse fotografe. Haar Instagram is dan ook een inspiratie bom an sich, maar wat ze te vertellen heeft, is minstens zo mooi. She came a long way, een weg die veel vrouwen herkennen.
Zeker sinds haar eigen zwemkledinglijn voor Hunkemöller staat haar account vol met bikini bodies (oftewel, alle soorten lichamen, want dat is hoe het werkt). 'Every body is a bikini body.' En ze heeft gelijk, als je het ons vraagt.
Sta voor waar je in gelooft – Alam Alamuddin
Amal Alamuddin Clooney is een Brits-Libanese juriste, activiste en auteur. Ze is als advocaat gespecialiseerd in het internationaal recht en de mensenrechten. Eén van haar cliënten is Julian Assange, de oprichter van WikiLeaks.
Ook heeft ze een adviserende positie binnen de United Nations en vecht ze voor vrouwenrechten in conflict gebieden. Ze is van Libanese vluchtelinge uitgegroeid naar de top van haar vak. Als we het hebben over een girlboss!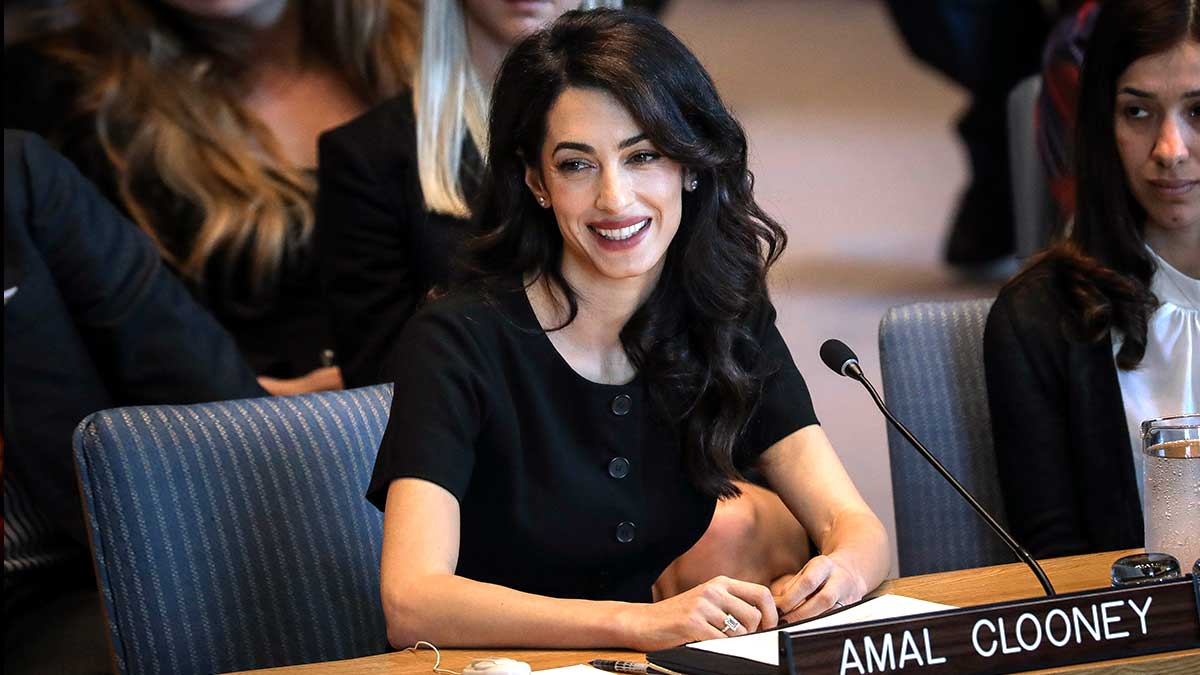 Van welke vrouwen kunnen we nog meer een lesje meepakken?
---